After so long with the same person in my life, it's kind of hard to believe they're actually gone.
Being with him was my longest and most serious relationship I've ever had. Possibly because we had a child together or maybe because I tried to see something in him that maybe was never there to begin with. 
But now it's gone, over, done.
After he left, I thought to myself, "Did I make the right decision?" "Should I have given it another try?" "Why do I feel so bad about a decision I thought would make me feel better?"
I cried so hard after everything was over that I made myself sicker than I already was because I didn't know how I should have felt and if I was doing the right thing for Mia....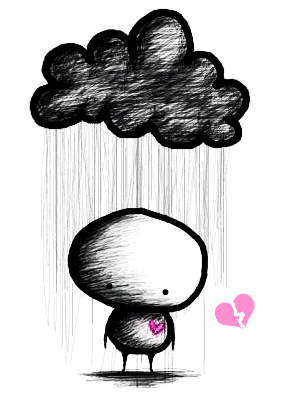 Knowing my daughter may grow up in a single parent household scares me because that is something I did not want, but then again, life takes its own path sometimes. 
Sitting at home for the first time as a single mother and single lady was awkward to me. Its like I was missing something. Plus I was getting sick anyway, which made it harder for me to care for Mia. Mother was at work; daddy isn't here anymore. And its not like Nacho could take care of her. (I wish!) 
I just never thought it would have gotten this far. And even though a part of me wants us to work out, the other part feels as if nothing ever changes. Especially THAT easily.
I'm not sure how I feel. I guess the biggest word I can think of is disappointment.
Disappointed because I didnt try to make it work for Mia.
Disappointed that it didnt turn out so great.
Disappointed that I may never be in a happy relationship... ever...

And that's why I sometimes wonder why I even bother with relationships when so many just end in disaster, especially this one.
But I guess that's life. You win some, and you lose more. (Or atleast that's how I feel)